LOVE LOVE LOVE them
Review by Stephanie on 26 Feb 2019
review stating LOVE LOVE LOVE them
I am in serious love with these shoes. It is difficult to find cute shoes with larger feet and these in a 43 wide fit me perfectly. I can wear them all day and my feet still feel good at the end of the day. None of that, "ahhh" feeling when I take them off. Instead, my feet feel energized. Wish they had other colors in the 43 wide as I would buy more!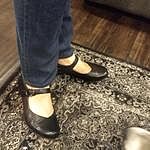 Perfect
Review by Savanah on 16 Nov 2019
review stating Perfect
Super cute and very comfortable
My new pair of Danskos
Review by Angela on 8 Nov 2019
review stating My new pair of Danskos
My new pair of Danskos (Fawna) arrived on time. They are beautiful and well made. I wore them right away, and even danced in them. They are very comfortable, and fit perfectly. I can wear them for casual and dressier occasions, as well. I have plantar fasciitis, and this shoe accomadates my orthotic inserts and gives me the additional support I require.
Love these shoes!
Review by Meredith on 7 Nov 2019
review stating Love these shoes!
Love these shoes!
Always Dansko!
Review by Kimberly on 4 Nov 2019
review stating Always Dansko!
The Dansko brand has never disappointed me. My love affair with Dansko shoes began with a pair of professional clogs to wear standing for hours in the operating room and racing all over the hospital for 13 hour days, never having a chance to sit. Until I found Dansko, I had NEVER found a pair of shoes which would leave me completely comfortable head to toe for that length of time. They are an absolute miracle of engineering! I started buying the cute styles like the Mary Janes for clinic days and had the same result. I never even think about my feet all day! I don't ever want to wear any other shoes. Now if only Dansko would make some beautiful formal footwear, like dainty-looking sling-back heels and strappy cocktail sandals in a dozen colors and metallics! Foot discomfort ruins SO many evenings out and formal occasions for women; please rescue us, Dansko!