Superior support for your feet
Review by Pamela on 2 May 2019
review stating Superior support for your feet
The downside is price, but you get excellent support from Dansko's arch system, nice stability, and of course they look great. I could not walk distances without these shoes. Roomy and cushioned, and even office-worthy in the right color.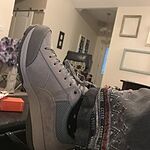 Work Shoe
Review by Christine on 6 Dec 2019
review stating Work Shoe
I first bought this shoe 1 1/2 years ago, and it lasted that long until I bought my second ones. An excellent, durable, long lasting shoe, and cute too. I am a nurse, walk all day, and will probably stay with this shoe for a very long time.
Great shoes!
Review by Kathleen on 4 Dec 2019
review stating Great shoes!
Very happy with these.
Great Shoe
Review by CAROLYN on 4 Dec 2019
review stating Great Shoe
Beautifully made. Sleek profile (not a lot of bulging parts.) Feels great on the foot. Would not wear this shoe to walk very long distances -- better to do that with a sneaker -- but would consider modest trail hike. Would purchase again.
LOVE These Shoes!!
Review by Diana on 3 Dec 2019
review stating LOVE These Shoes!!
I wish I could afford a pair in every color! I use orthotics, so it was amazing how good they felt in these shoes! These shoes look great and are comfortable! I am so happy I ordered these! Please don't eliminate them from the product list anytime soon!