Jumping on the bandwagon
Review by Delaney on 7 May 2018
review stating Jumping on the bandwagon
I wasn't sold on the professional clogs initially, but I'm definitely a convert. I wear these all over the place.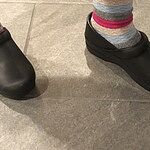 Professional Antique Brown
Review by Christine on 13 Nov 2019
review stating Professional Antique Brown
This purchase was to replace the same clog I wore for 10 years. The heel wore out long before the leather uppers...which still looked great. I love all of my Danskos.
I bought these shoes to
Review by Patricia on 4 Nov 2019
review stating I bought these shoes to
I bought these shoes to replace my first pair of dansko clogs, I had for 13 years, they were my go to shoes to wear with jeans. The soles on them broke so I replaced them immediately. The first pair the shoes were a little tight, the new ones (same size 36) are looser. Still love them.
Great shoes promptly delivered. Thanks!
Review by Howard on 2 Nov 2019
review stating Great shoes promptly delivered. Thanks!
Great shoes promptly delivered. Thanks!
I love my Danskos
Review by Susan on 28 Oct 2019
review stating I love my Danskos
Since I discovered Dansko shoes I have bought 7 pairs....clogs, sandals, tennis shoes. I have a high arch and have never worn any shoes as comfortable as my Danskos. 😊
Q: Are these shoes slip resistant?
Q: I am reading the reviews and it seems that these shoes run small in the US size. If I wear a 7 medium what would that be? A 7.5 - 8 on your chart. Many have complained that the shoe is too tight and not enough toe room, which leads me to believe it runs small. I want to order a pair but I do not want tight fitting shoes on my feet, it will be a waist of money for me.
A: Hello,
Typically, our size 37 accommodates US sizes 6.5-7. You mentioned that you wear a 7 medium and our size 37 should be the correct size for you. However, some customers that have a high instep or wear a wide width in US sizes, have found going up a size or ordering the wide width style (Wide Pro) has helped. Additionally, below is a link to a short video explaining how the clogs should fit:
dansko.com/Size%20Charts
Should you place an order with us, please know we would be happy to take your shoes back for an exchange/return should they not fit. At this time, we are currently offering free shipping on orders that ship via FedEx smart post. Also, we provide a prepaid shipping label on all returns for an exchange.